Why Participate in Undergraduate Research?
Have you ever imagined yourself being involved in the creation of new knowledge or the discovery of new ways of understanding? It's pretty exciting.
Opportunities to Conduct and Present Research
Engaging in research is an opportunity to become more actively involved in your education through intellectual inquiry and experiential learning. It is a chance to explore your chosen field as well as other fields of interest, and an opportunity to develop the skills employers want (for example, teamwork, problem-solving, critical thinking and communication).
Undergraduate researchers always have a research mentor, which could be a faculty member or a graduate student. In many cases, they are part of a faculty-led research team that includes graduate students and may include other undergrads. Some students are able to contribute to a journal article or conference presentation in which research findings are disseminated at a professional meeting.
Students may participate in research projects for course credit, as volunteers, or as paid research assistants. Sometimes faculty ask students to volunteer for a semester before considering them for a paid position.
Opportunities within the College of Education
The College of Education offers several types of research experiences for undergraduates.
Research Funded by MSU's Office of Undergraduate Research
Each year, College of Education faculty are invited to apply for funds provided to the college by MSU's Office of Undergraduate Research. Faculty submit research proposals early in the fall semester, and those who receive awards use the funds to hire undergraduate students on an hourly basis. It may be helpful to browse examples of such projects in our college.
If you are interested in finding a research position in the College of Education, contact Abby Johnson and she will let faculty who are hiring students with these funds know of your interest. Alternatively, if you read about a faculty member's research and become interested, you may contact the faculty member directly. Before doing that, please see the tips for preparing to make that contact below.
Faculty Funded Research
College of Education faculty sometimes employ undergraduate researchers with funds they have received to conduct specific research projects. They may also include committed volunteers on their research team. If you are interested in the work of a faculty researcher, contact the faculty member directly. See "Approaching a Faculty Member about Your Research Interest" below.
A number of faculty in the Department of Kinesiology have research labs and include undergraduate researchers (paid or unpaid) as part of their research team. To learn more about the research conducted in each lab, visit KIN Research.
Professorial Assistantships
A small number of incoming freshmen are invited by the MSU Honors College to become Professorial Assistants. The Honors College pays Professorial Assistants a stipend to work with faculty members for approximately eight hours per week during the academic year. You may want to browse examples of PA research projects in the College of Education. It is sometimes possible for students who are not Professorial Assistants to engage in these projects as volunteers or paid research staff members. Interested students who are not PAs may contact faculty researchers directly to express their interest in a particular research project. Please see the tips below for approaching a faculty member about your research interests.
Resources for Finding Opportunities Outside the College of Education
University Undergraduate Research and Arts Forum (UURAF)
Attending or participating in UURAF is a Spartan experience that's not to be missed! Students employed with funds from the Office of Undergraduate Research are expected to present their work at UURAF in the spring, but all undergraduate researchers are strongly encouraged to present their work. Recently, the presentation of a Kinesiology student in the College of Education received one of two grand prizes ($500), and the presentations of a number of other College of Education students received first place awards in their sections ($100). Congratulations to our undergraduate researchers!
Approaching a Faculty Member about Your Research Interest
Before contacting a faculty member about your research interest, you should do some preparation (similar to the way you would prepare for a job interview). Do an online search and learn more about the faculty member's research agenda. If she or he has a website, that is an excellent place to begin. Read the abstracts (summaries) of journal articles the faculty member has published, or browse books or book chapters that she or he has written. If you have taken a class from the faculty member, think about what it was that sparked your interest in her or his research. Think carefully about the strengths and talents you would bring to the research team. Be prepared to talk about your previous work experiences. The work may be different, but the faculty member will want to know that you have been successful in the work place; that is, you showed up when and where you were scheduled to work, you got to work on time, you did what you were asked to do in a timely fashion, etc.
Funding an Undergraduate Research Experience
If you are unable to find a paid research position, the Office of Undergraduate Research has some suggestions for funding your work:
Ask your faculty research mentor for ideas about professional organizations or agencies related to your work. Sometimes these organizations offer scholarships and grants to undergraduate students.
Be prepared to "cobble" together your funding—you may not find one source that will provide all of your funding. However, you might find units at MSU and/or small grants that would pay for a portion of your expenses. Prepare a spreadsheet that outlines your anticipated expenses.
The MSU Library Grant Site is a database with funding opportunities for individuals, such as financial aid or scholarships for students.
Your research mentor and/or your college research contact may also be able to share resources for travel support if you are presenting your work at a conference.
Research Abroad
You can combine an education abroad experience with a research experience to create a Research Abroad experience! The Office of Education Abroad offers a number of approved programs for research abroad. Even better, the Associate Provost for Undergraduate Education (APUE) and the Office of Education Abroad offer scholarships to undergraduate students who wish to participate in an approved education abroad program that includes an undergraduate research component. Learn more!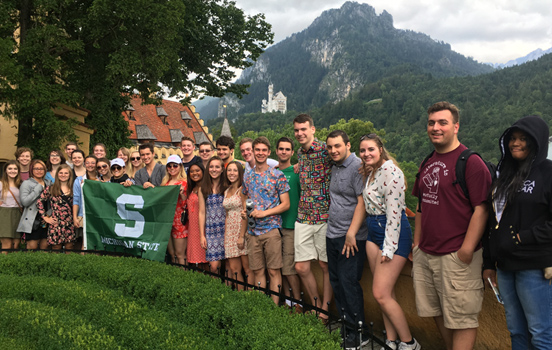 Undergraduate Research in Kinesiology
With state-of-the-art laboratory spaces, participation in kinesiology research provides an opportunity for experiential learning and more active engagement in your education.