Joseph Krajcik, an internationally recognized scholar in STEM teaching and learning, was named a University Distinguished Professor by the MSU Board of Trustees in 2021.
The recognition is one of the highest honors that can be bestowed on a Michigan State University faculty member, and is given in acknowledgment of achievements in research, the classroom and the community.
Krajcik, a first-generation college graduate, started his career as a high school chemistry teacher. He earned a master's, then a Ph.D. as his interests continued to shift toward wanting to learn and to teach people to learn.
"I made a commitment to myself: I would contribute constantly to the development of teachers, professional learning and working in schools. That's what's driven me."

Joseph Krajcik
The motivation brought him to the MSU College of Education in 2011, when he established the CREATE for STEM Institute with the intention of improving teaching and learning in STEM disciplines for K-16 students. Since then, CREATE for STEM—or Collaborative Research in Education, Assessment and Teaching Environments for the fields of Science, Technology, Engineering and Mathematics—has focused on innovation and research, including with faculty and graduate students. Outreach includes:
"None of the success of the CREATE for STEM Institute could ever have happened without collaborations," added Krajcik. "There have been faculty and students at MSU who have been so instrumental, but so too have been our international colleagues in Finland, China, Taiwan, Germany, Israel. These close collaborations have allowed CREATE to accomplish what it does. That's one of the wonderful things about CREATE—it's lived up to its name."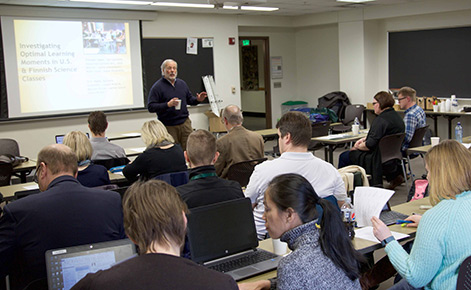 Throughout his career, Krajcik, also a Lappan-Phillips Professor of Science Education at MSU, has been involved in key initiatives and organizations that moved learning forward. He has served as the president of NARST (formerly the National Association for Research in science Teaching), as co-leader of the Instructional Development and Educational Assessment (IDEA) Institute and as a leader for both the Framework for K-12 Science Education (2012) and the Next Generation Science Standards (2013).
---
Related news: Book co-edited by Krajcik and MSU Professor Barbara Schneider chronicles real-world examples of teachers who implemented project-based learning in their elementary science classrooms—and saw their teaching and students' learning transformed.
---
And though Krajcik's drive was always the impact in the classroom and not the accolades—he's been recognized in several ways locally, nationally and internationally, including with the 2014 George G. Mallinson Award from the Michigan Science Teachers Association; the 2020 Harold W. McGraw, Jr. Prize in Education, the 2021 Prize for Excellence in Educational Design from the International Society for Design and Development in Education; and being named a member of the National Academy of Education (2019).
Hear more from Krajcik on his career in this video from WKAR: