Michigan State University doctoral student Rachel Lockart is studying long-term effects of education reforms on teachers and teacher education in Senegal during a year-long Fulbright-Hays Fellowship.
Lockart, part of the Curriculum, Instruction and Teacher Education (CITE) doctoral program, will examine how policy changes since the early 1990s continue to have an impact on elementary teachers today, including shifting views of the teaching profession. Her research explores changes to initial teacher education, teachers' working conditions and how teachers make decisions about their career trajectories.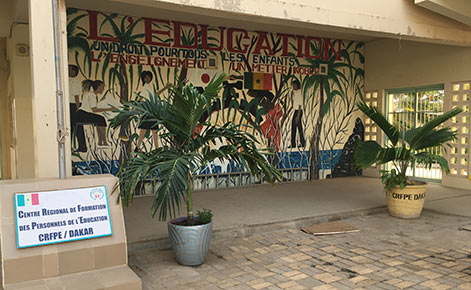 "I want to share evidence of what happens when we change education policy to encourage people to think about what these changes actually mean, especially what long-term effects they may have," said Lockart, who will use the research to guide her dissertation ahead of her anticipated 2022 graduation. "Education doesn't stop when we change policies. The students keep coming to school every day. The teachers hopefully remain for many years, but may leave the profession. This means that teacher education reform is not, and never will be, a short-term endeavor. Understanding the past is key."
She was one of six MSU students who received a Fulbright-Hays Doctoral Dissertation Research Abroad Fellowship this year, a new record of awards granted to a single university in the U.S. The program provides doctoral candidates funding to engage in full-time dissertation research across the world, with the goal of "developing and improving the study of modern foreign languages and area studies in the United States."
Looking at the past
Lockart's research centers on changes that began in the 1990s, when countries and global organizations adopted the "Education for All" framework via the United Nations.
The goal was to ensure every person had access to and could benefit from educational opportunities. What followed was a push and advocacy to increase enrollment in schools, which resulted in needing more teachers.
"In some countries, such as Mali, the student to teacher ratio went from the high 30s to 1:80 during that time, so you had these massive classes," Lockart explained.
To address this need, Senegal changed teacher education dramatically in 1994-95. Previously, teachers had been trained extensively before finding long-term governmental employment. Following the change, most new teachers were trained for only a handful of months, instead of the former four-year model. Initially, these teachers were called "volunteers," and paid small stipends in lieu of salaries and limited to only a few years of employment. After a few years and subsequent policy changes, their status was changed to "contract teachers," initial teacher education was lengthened to six months and longer-term employment became possible.
More recent reforms have led to additional changes in status, initial teacher certification and employment conditions.
This critical moment of change in the early 1990s is what Lockart is researching: She will study how current and preservice teachers understand these changes and how, even though it has been years, effects are still being felt.
"Teacher education policy changes often happen at a national level, but are enacted, understood and carried out—or resisted—by teachers and student teachers," Lockart said. And a lot of teachers saw the changes weren't going to work.
"People pushed back and advocated. So now, this type of teacher preparation is no longer in place in Senegal," she explained—saying that aspects of teacher education and employment have continued to change in recent years.
Studying 3 of Senegal's 14 regions, Lockart will work with current and future teachers to learn about what effects the reform had then, and now. Part of her studies will also include examining policy documents from the 1990s and now, in order, to examine discourse on teachers.
"Are teachers considered integral to change?" Lockart wonders. "Are they even mentioned in documents? Essentially: Are policymakers viewing teachers as a problem to be solved, or as a partner in change?"
---
Related links
Lockart is one of six MSU students to earn a Fulbright-Hays Fellowship. Learn more about the five other recipients, all from the College of Social Science.
In 2010, Amita Chudgar studied contract teachers—that is, the model of teacher employment formerly found in Senegal and many other countries—and how relying on contract teachers affects student learning in developing countries. Chudgar most recently was granted nearly $1 million as a recipient of the 2018 Lyle Spencer Research Award. Spanning three continents, her work will explore: What does providing quality secondary education really mean?