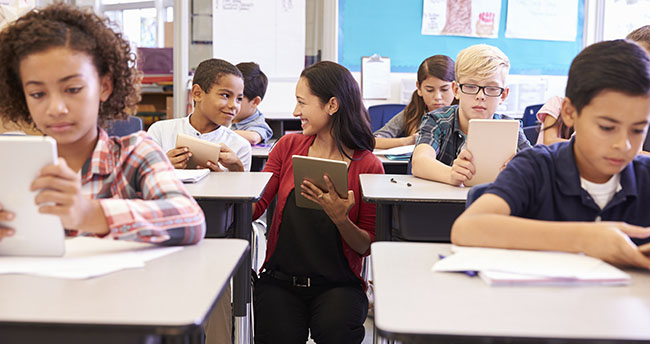 Scholars from around the world gathered at MSU in October 2018 to discuss social media and education.
More than 100 participants took part in "#Cloud2Class: Exploring the Disruption and Reorganization of Educational Resources in the Age of Social Media," which encouraged collaboration and communication—and showcased some of the ways MSU faculty and students are investigating and incorporating social media tools and technology into their educational research and practice.
"Social media's adoption in education is growing at an unprecedented rate, but is little understood," said Associate Professor Christine Greenhow, a principal investigator and one of the leading organizers of the grant-funded event.
NEW FINDINGS
Scholarship presented at and stemming from the conference will be represented in special issues for three journals. Teachers College Record is publishing 13 of these articles in their year-end issue in fall 2019.
For example, Greenhow was lead author on "Education and Social Media: Research Directions to Guide a Growing Field." The writers acknowledge research in this area is fast-growing, but argue studies in several key areas are needed, as is methodological and conceptual work. Their recommendations for research directions are based on their forthcoming review of 15 years of social media research, and additional studies of the use of technology in education.
Ongoing research from MSU Foundation Professor Ken Frank and Research Specialist Kaitlin Torphy, Ph.D. '14 (Education Policy), of Teachers in Social Media—a collaborative effort examining teachers' engagement with online spaces—found varied opinions about the use of social media in education. Their article, "Social Media, Who Cares? A Dialogue between a Millennial and the Curmudgeon," confirmed a majority of teachers are using social media for educational purposes.
But what is the quality, or the value, of resources educators are pursuing social media outlets to find? It would be difficult to keep teachers from utilizing resources of their own free will, the researchers conceded. They also say scholars can and should aspire to provide and share quality resources for teachers to use.
The question of quality is echoed in "Teaching Against Social Media: Confronting Problems of Profit in the Curriculum," which included Greenhow, Professor Matthew Koehler, and Sarah Galvin and Emilia Askari, Ph.D. students in the Educational Psychology and Educational Technology (EPET) program. The authors argue educators need to be critical of social media algorithms and designs that can push advertisers' agendas, including possible exploitation of user data. They also encouraged educators to work with companies to better their practices to thwart concerns of cyberbullying and other forms of harassment.
"This [TCR] issue and our forthcoming research synthesizes what educational research tells us about social media's impact on learning and teaching, maps directions for research in this growing field, outlines implications for teaching and policy, and so much more," Greenhow explained.
Additional research from the conference will be shared in forthcoming special issues of the American Journal of Education and Teachers College Record.
---
COMING SOON
Articles referenced are in press, and expected to be online and in print in fall 2019.
SPECIAL THANKS
The #Cloud2Class conference was funded through a grant from the American Educational Research Association (AERA) and was organized by Christine Greenhow, Ken Frank and alumni including Kaitlin Torphy and Diana Brandon, Ph.D. '18 (Educational Psychology and Educational Technology). Other collaborators included scholars from Northwestern University, the University of California-San Diego, the University of Education in Weingarten (Germany) and the University of Amsterdam.